I released this book a while back. Experimenting with distribution and formats.
There are a few more in the pipeline.
– XFP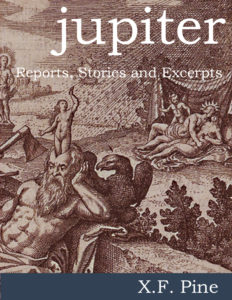 Jupiter is an anthology of reports and fables from X.F. Pine that operate like a mixed tape. The first part concerns abysses and shelters of a few kinds, an old Maine storyteller, a man locked in a room with secrets, a gambling martial artist, an adaptive actresses, inside a famous comedy show, and cards dealt out to one's memories. The second part is about enemy tree houses, family curses, an alcoholic letter writer, visitations with spook fathers, women acting like cats, the end of the world, retirement swindles, confessions about killing a man who controls luck, the endless battle against resistance, ancient bar crawls, and personal spirals that lead to dust and bones.
Available Here:
Lulu ebook discounted at $5 American Dollars 
Barnes and Noble Paperback and Nook