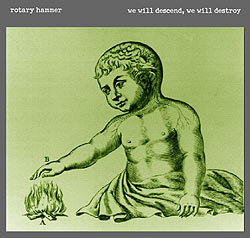 Rotary Hammer – We Will Descend, We Will Destroy
Recorded in a haunted apartment on Sutton St. in Greenpoint Brooklyn circa 1995 Rotary Hammer executes sonic mind-crimes with telepathy and remote Gibson hollow-body fuzz surround infusion. With angst ridden terror leads and banshee like backing vocals (on Scarlett and WWDWWD in particular) Rotary Hammer eats its own poison and then spits it in the face of authority. Note the lovely street harmonica on the final track – WWDWWD.
01 – Scarlett.mp3 (4:13)
02 – Skeleton People.mp3 (6:25)
03 – Argosy.mp3 (15:53)
04 – Beyond Upright Forever.mp3 (7:02)
05 – Thank You Father.mp3 (5:33)
06 – We Will Descend, We Will Destroy.mp3 (15:30
---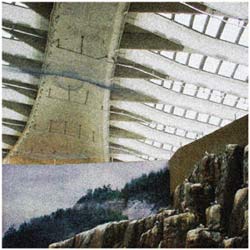 Rotary Hammer "" Torment of the Metals
An ambient exploration of two primary elements and their inverse powers. Filled with inner dynamism, the sulfur-bull bucks and the dew in the bowl vibrates, sated with the nitric heavenly spirit, pure saltpeter. Note the mandolin and ambient radio waves.